Summer is coming and for many people the desire to tan grows. Sun creams, sunscreens or suntans and tanning oils peep out from the beach beauty: one for every skin type.
Sun creams contains water mixtures, chemical and natural filters, perfumed essences, alcohol and mineral oil derivatives.
Tanning oils have a base of natural oil such as walnut or coconut husk oil.
What happens when we lie in the sun, on the beach towels, with the body sprinkled with cream or oil?
A part of the product is transferred from the skin on the fabric causing ugly yellowish spots particularly noticeable on light fabrics – white, ivory, light grey – like most of the towels provided by the hotels in the pool or beach areas.
When a fabric stained with a cosmetic containing sunscreens is washed, not always at the end of the washing cycle is perfectly stained. This happens if you do not follow the right precautions in setting the washing process.
A fabric that is not completely stained and not properly washed, for a laundry results in the loss of linen, in the case it has to be eliminated, or in an increase in fabric to be re-cleaned, situation that causes the increase of the running costs and the working time.
How to properly treat a fabric compromised by spots of a "special" nature such as sunscreen stains?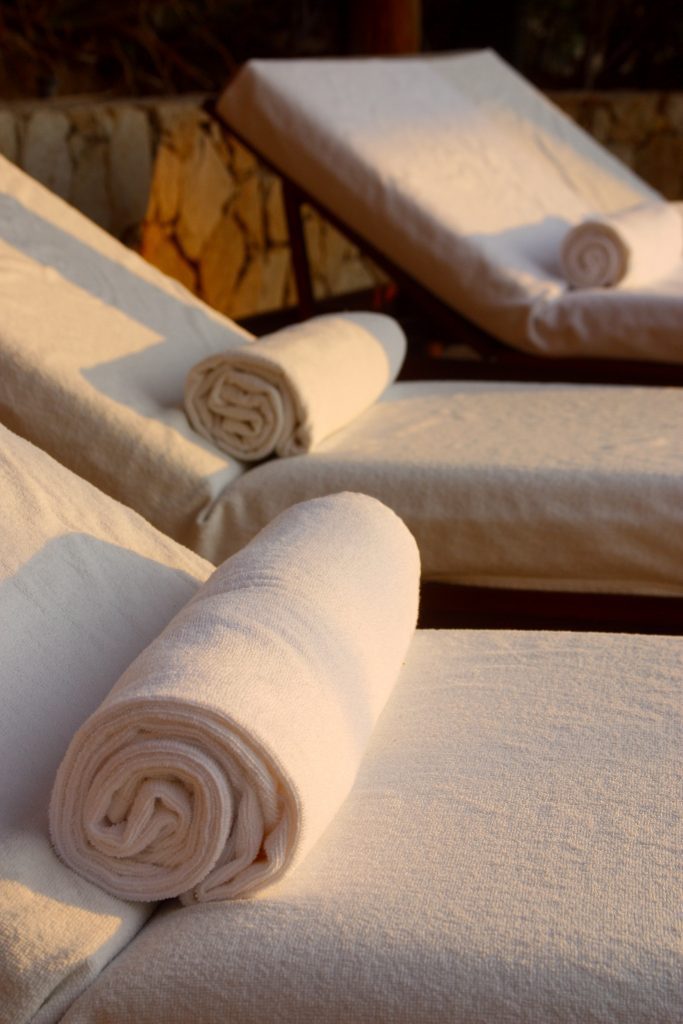 Let's assume you have cotton or French terry cotton beach towels, white or light color, and have to treat them with a specific cycle for the removal of stains from solar products.
We specify that this type of stain normally would require more use of detergents and additives.
The proper OPTIWASH cycle is NORMAL 60°C
The cycle includes a pre-wash phase at 40 ºC as the first treatment of stains, a wash phase at 60 ºC for the total removal of dirt and stains, 3 rinse steps to completely remove the detergents from the towels and 3+1 spin steps to obtain the right degree of humidity that allows an optimal and fast drying.
The right washing cycle ensures the perfect sanitization of the towels and the total removal of stains.
The towels, completely washed and stained, are ready for drying in tumble dryer.
Thanks to the use of FLUFFY TEN softener in the washing phase and the delicacy of the drying cycles of the ES IMESA EVO.Line tumble dryers, the final result is clean and sanitized towels, particularly soft to the touch.
The right combination of mechanical force, washing and drying treatments with IMESA machines and OPTIWASH products, guarantees total protection and the right care of the fabrics.
Contact our sales team for more information on OPTIWASH washing cycle.