Sanitize, not only that.
Welcome, not only that.
Inform, not only that.
What do you expect from the hospitality and catering sector? ATTENTION and SAFETY, which translate into investments in solutions that make the stay of guests pleasant and without worries. The constant increase of the use of vaccines favors the restart and the return to a life in community. The need and the desire to travel are widespread and, even if this year we will all travel a bit more "around the corner", we start again and it is important to be ready.
We said SANITIZE. Surfaces and linen are object of high attention by customers. Bed linen, towels, tablecloths and uniforms should be treated with extreme care through specific programs that, in addition to removing stains and dirt, prevent the proliferation of infections.
IMESA washing machines and dryers allow the treatment of any type of fabric; a program for every need and for every type of dirt. User-friendly and extremely versatile, IM11 allows you to transform a washing machine into your WASHING MACHINE, making it do exactly what you want. If you don't know IM11 yet, CALL US!
We said WELCOME. Clean, soft and fragrant fabrics are the best welcome to the customer. A nice fabric is synonymous with attention and attention makes the customer feel pampered. Nothing better!
But how many bath towels, bathrobes, sheets and tablecloths are used in a hotel?
Certainly the tendency to re-evaluate the outdoor areas, which allow spacing and a higher level of safety for guests, cause a greater use of equipment and consequently of linen. Indoor and outdoor dining rooms, relax areas pool and garden, indoor and outdoor bar area: all for two, all to be managed. Fast and high-productivity machines are the right solution and IMESA has it.
We said INFORM. Web sites, social media, customers word of mouth. Everything comes together to talk about a brand and an experience. Carelessness is not allowed. How can we be sure that all the processes take place correctly within our business? In the laundry room you can! IM11 allows to trace all the washing programs, verify their correct execution and the reference parameters, ensuring the operator peace of mind and safety of the results.
Remote control facilitates activities and ensures flexibility and maximum control at the same time.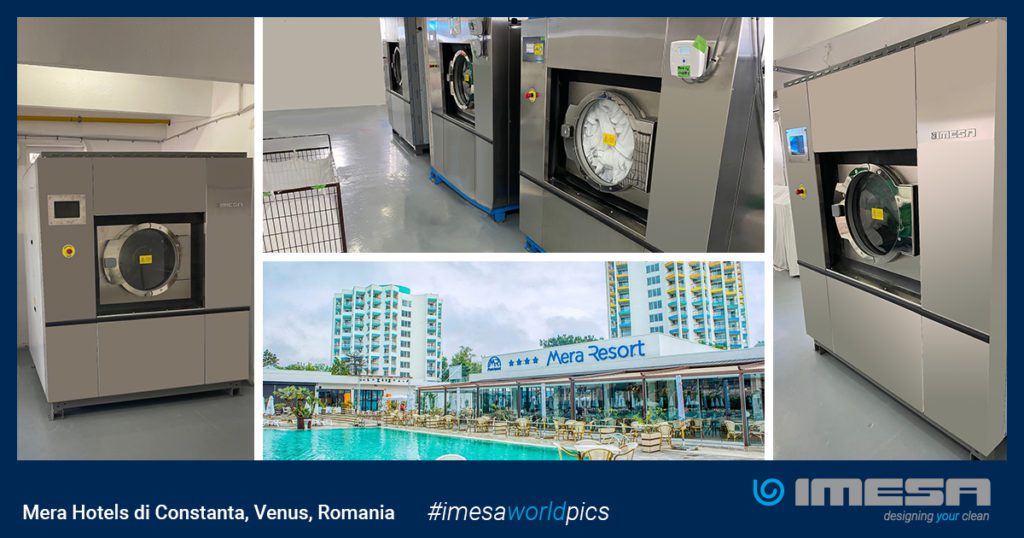 Installation at the MERA HOTEL COSTANTA – Romania –
made by our partner Regency Project Srl.